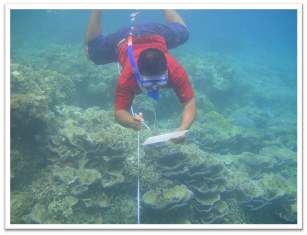 Based on the Resource Ecological Assessment conducted, the three fish sanctuaries (Marine Protected Areas) surveyed has fair coral reef status. Live hard coral cover ranged from 37% to 46%. Cabaungon Grande Island Fish Sanctuary has 38% coral cover of which in 2007 Rapid Resource Ecological Assessment, it has 83.84% coral cover. The results revealed that hard coral cover had declined to 45.84% cover. In Barobaybay Fish Sanctuary, present LHC cover is 37%. In the last five years, result recorded 30.63% cover. Live coral cover has increase to 6.37%. Likewise, San Juan Fish Sanctuary in the last five years has 43.93% live coral cover while this year's results revealed that 2.97% increase on live hard coral cover.
Acropora branching, foliose, mushroom and massive were the dominant life forms of hard corals encountered. However, almost of the area has a dead coral that is primarily caused by dynamite blasting. Thirty five (35%) were dead corals and mostly encrusted by algae. Good corals were observed in between the reef flat and reef edge of the sanctuary. At the reef slope part, it is primarily covered by sand and coral fragments.
From the former results, generally the three fish sanctuaries have fair coral reef status. However, Cabaungon Grande Island fish sanctuaries have declined its cover. Most of the reasons involved in the degradation of coral reef in the area are the rampant illegal fishing activities especially dynamite, compressor fishing and use of fine mesh- nets.
Overall, 38 fish species belonging to 22 families recorded in Cabaungon Grande Island FS, 35 species belonging to 24 families in Barobaybay FS and 59 species belonging to 18 families were recorded . These species were classified into three major fish categories. Most of the fish recorded was target species. These are mostly dominated by siganids, surgeonfish and parrotfish. Damselfish and wrasse were the dominant non- target species recorded among the three sanctuaries. Only few indicator species were observed in the sampling sites. Siganids has an estimated 8- 11 cm length size while parrotfish has an estimated length size of 10- 13 cm.
For seagrass/ seaweed, a total of 7 seagrass and 16 seaweed species were found in Cabaungon Grande Island; 7 SG species in San Juan and 3 SG species in Barobaybay. Chaetomorpha crassa was found within the site of which this is one of the diets of siganids.
Rhizophora stylosa seedlings mostly dominated in Cabaungon Grande Island, San Juan and Barobaybay. High individual counts (62/100m2) of matured trees were recorded in Barobaybay. Mangrove forest has a primary growth of mangrove species especially bakauan and bunngalon/ miyapi.
Rhizophora stylosa had the highest relative density, frequency and dominance in Cabaungon Grande Island and Barobaybay while Rhizophora apiculata in San Juan. Highest stand basal of Rhizophora stylosa was recorded in Cabaungon Grande Island and Barobaybay.
Finally, the illegal forms of fishing tremendously put new pressure to the ecosystems of the island fish sanctuary most especially on the branching corals that were observed are in their rejuvenating stage. If this will be adversely affected in a continuous destruction more juvenile fish will lost their home, nursery area, and breeding grounds. Eventually, there will be less mature fish that will produce thousands of eggs and a decline on fish catch will happen. Thus, more local fishers will suffer food shortage as fishing is one of their livelihoods. There will be no food security then.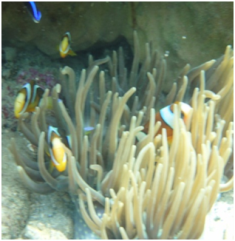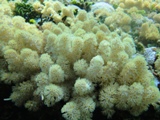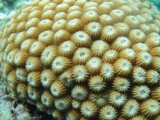 RECOMMENDATIONS
Based on the previous and current resource status in the three sanctuaries surveyed there is a need to protect, conserve and further enhance the resources through the following:
* As there is already crafted Municipal Fisheries Ordinance in San Jose, it should be re- lobbied to the SB councils for further review as this a vital key for the reduction of illegal fishing activities and also for sustainable approach for fishery development in the area;
* With regards to environmental laws which some of the MPA managers or M/BLGUs didn't know yet, ELAC- Environmental Legal Assistance Council could help to assist the LGUs and Pos and can provide 2-3 days training and orientation workshops;
* Maintenance and Monitoring. In the case of Cabaungon Grande Island Fish Sanctuary, there is a need to reconstruct or repair the existing guardhouse and deploy bantay- dagat who will rove around the island. Marine Sanctuary managers, PO, B/MLGU, FARMCs and PNP can sit- down for planning regular patrolling. In fact, there is already a patrol boat which can be used for coastal enforcement/ apprehension. Joint apprehension can be done with PNP, PO and Local Gov't Units. Likewise the other two sanctuaries have to establish a guardhouse to look for intruders. As there are some dormant POs in Lavezares, the MAO and NGO can help facilitate for their re- activation. Every committee of FSMC has roles and responsibilities for the success management of a fish sanctuary and fishery, likewise the defining of roles and function have to be clarified in order to have a functional and realistic working committee.
* Environmental Education and Training. MLGU can provide Marine Sanctuary trainings, environmental education training, cross visits and exposure trips and participatory marine resource assessment & monitoring. Municipality of San Jose already done participatory approach on resource assessment and monitoring;
* There is a need to reactivate or formulate BFARMC and MFARMC as mandated by RA 8550 "New Fishery Codes/ Law";
* As many of the LGUs problem is budget insufficiency for CMR, these 2005 &2007 RCRA baseline data and present data provided can be used for making a project proposal especially on coastal and marine management. There are national and international funding agencies who are posting their call for project proposals and the data itself is a vital key for project proposal making. Funding agencies have contact information posted in the Internet or have their own website. Local NGO in Samar are also active in assisting livelihood development with regards to CRM.
* Mangrove forest in some areas of San Jose and Lavezares. Mangrove resource itself can generate income for everyone through establishment of Mangrove Boardwalk like in the case of Palompon, Leyte and Panglao Island, Bohol. The mangrove boardwalk serves as gateway for strengthened protection and conservation of mangal. Likewise, this can generate income as well as providing sustainable and green- eco tourism. Eco- tourism activities have been known to redirect the utility of natural resources to more sustainable ways.
* In some abandoned, vacant and cleared mangrove areas in the municipalities, the B/MLGUs itself can initiate a mangrove enhancement/ reforestation activities. Consult with DENR. There is no problem on planting materials as it is available in mainland and islands.
* The establishment also of a mangrove nursery is very helpful for conservation and preservation mangrove ecosystem and provide alternative livelihood for POs. Universities/ colleges have a tree- planting activity once or twice a year; they can be tapped for the similar activity.
* Most of the surveyed areas are along coasts and island, there is a potential livelihood that can be undertaken especially in seas. MLGUs can develop mass mariculture and aquaculture techniques by tapping BFAR and DTI for business development enterprise, and pool for technical requirements needed to facilitate project implementation.
* Planning and Implementation of Environmental User's Fee (EUF). This EUF will be applied or used to existing and potential natural resources for tourist destination as to have a sustainable and green tourism. There are potential diving sites within BIRI- LAROSA that need to be given action. Tourists are coming in and out but not given chance to return back something that can be used for conservation and protection of where they visited. Thus, there was no EUF imposed/ collected to them well in fact they should be asked for it. The EUF that will be imposed within the municipality (B/MLGU) is a great strategy to support locally- sponsored conservation efforts and allow tourists who are benefiting the view the chance to give back to the environment.