The FIRMED Program Framework: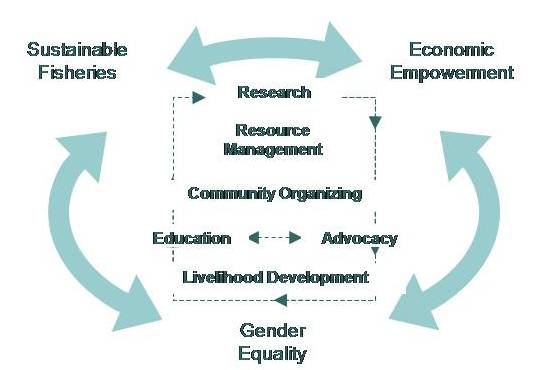 Current CERD Program Areas: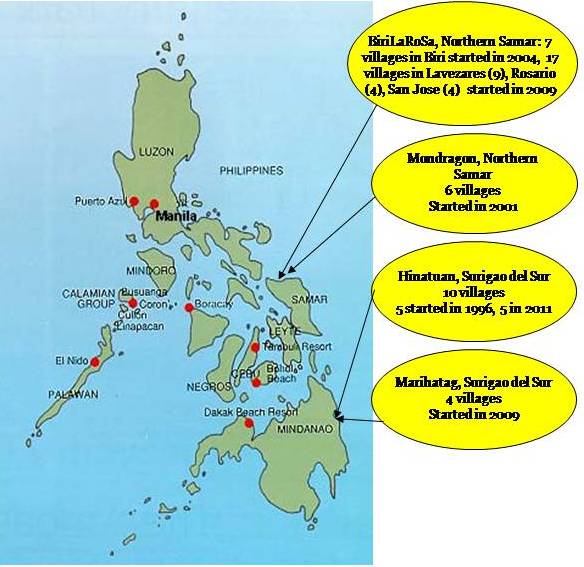 2011 saw the expansion of the Biri Mangrove Project to include Lavezares, Rosario and San Jose, Northern Samar, the remaining three (3) municipalities covered by BiriLaRoSa Protected Landscape and Seascape. In addition, Seaweed Production Project funded by Toyota Foundation started in Lavezares in November 2011 which will provide support for at least thirty (30) seaweed farmers.
In Mondragon, Northern Samar, CERD continued its community based coastal resource management program in 6 coastal barangays namely Dona Lucia, Bugko, Chitongko, Roxas, San Juan and Eco.
On the other hand, Hinatuan expanded to five (5) more coastal barangays bringing the total barangays covered to ten (10). These barangays are Aquino, Baculin, Campa, Harip and Tidman.
2011 was marked with strong partnership with different stakeholders that resulted in different forms of support, e.g. Department of Social Welfare and Development (DSWD) cash transfer program that ensured inclusion of PO partners as beneficiaries, Department of Science and Technology (DOST) support for the salt drying technology in Mondragon, and partnership with academe-based expert for the seaweed project in Northern Samar.
There was also partnership with the private sector particularly in Hinatuan for the Typhoon Sendong Quick Reaction project. In Marihatag, the Marihatag Multi-Sectoral Alliance for Environmental Protection (MMSAEP) was formed by different stakeholders including CERD. The network seeks to ensure integrity of the environmental resources by not allowing the operation of 10 mining corporations that seeks approval of their planned operation in the municipality.
Disaster Risk Reduction and Management was once again implemented with the innovative assistance to the Hinatuan victims of typhoon Sendong or Washi Quick Response Project. Support to affected families was through cash/gift voucher which the families exchanged for groceries and house repair materials in partner establishments.
However, CERD's advocacy efforts have not been translated into policies/ resolutions/ concrete legal instruments. For instance, Municipal Fishery Ordinance (MFO) amendments and Women Managed Area (WMA) ordinances for Marihatag and Hinatuan are still pending.
Following is the summary of CERD accomplishments for the year:
Items

Biri

Lavezares

Rosario

San Jose

Marihatag

Mondragon

Hinatuan

Total

F

M

F

M

F

M

F

M

F

M

F

M

F

M

F

M

# of barangays covered

7

9

4

4

4

5

10

43

Number of POs

7

4

7

12

30

Membership (F:female; M:male)

58

186

77

65

109

111

320

291

564

653

1217

# of organized HHs

32

140

447

619

# of HhDI partners/ families

61

43

282

386

# of seaweed farmers

14

43

20

15

38

29

101

Mangrove Refo (hectares)

10

3.17

1.5

60

74.67

Mangrove Management (hectares)

546.1164

310

510

1192

2012

# of Fish Sanctuaries (FS)

3

0

0

7

10

Total size/has. of FS sites

39.7

0

0

482

521.7
2011 Accomplishment
Biri, Northern Samar
2011 is the second year of "Towards a Provincial Level Community-Based Mangrove Protection and Management" project funded by PTFCF. The second year is focused on expanding the coverage to include Lavezares, Rosario and San Jose. Activities in these municipalities include survey/mapping of existing mangrove forests, conduct of mangrove orientation and community issue identification and planning relative to mangrove resource protection and management. Biri, on the other hand, was to serve as learning example/model for the three (3) municipalities. Exposure to a successful mangrove management site was also conducted for BiriLaRoSa to learn strategies that they can replicate in their respective areas.
Livelihood assistance to seaweed farmers was provided through the Sustainable Seaweed Social Enterprise in Northern Samar project funded by ICCO that started in September 2010. There are already 57 seaweed farming beneficiaries where 14 are females and 43 are males. Another seaweed project started in November 2011 is focused on providing support to at least 30 seaweed farmers in Lavezares with funding from Toyota Foundation.
| | |
| --- | --- |
| Total Number of Barangays | 15 |
| Total Number of Fisherfolk Organizations | 7 |
| Total Membership | 244 |
| Total Male: 186 | |
| Total Female: 58 | |
| Resource Management | |
| Total Number of Fish Sanctuaries | 3 |
| Total Size in Hectares | 39.7 |
| Total Mangrove Reforestation/Enhancement in 2011 (in hectares) | 10 |
Mondragon, Northern Samar
With the assistance of the Department of Science and Technology, the Salt Making project of Mondragon was upgraded and launched this year. A Bantay Asin task force was also formed for the marketing of the salt produced in the area.
Another livelihood activity tested in Mondragon is seaweed farming. It was found that after only a week, the seaweeds grew by 100 grams, indicating that seaweed farming is feasible in the area.
Soap and candle making was also studied and tried by the POs as another livelihood option. Market study was also done for salabat or ginger tea project and the study showed the project is feasible.
On resource management, barangays Eco, Chitongko and San Juan approved a joint resolution for the establishment of fish sanctuary in their respective barangays. The resolution is already submitted to the Sangguniang Bayan for the passage of Fish Sanctuary Ordinance. Budget was committed by both parties amounting to Php10,000 for San Juan; Php10,000 for Chitongco; Php10,000 for Eco; and Php 200,000 for the MLGU. The draft ordinance is under review of the SB Committee on Agriculture.
Roving and apprehension was also continued in Mondragon.
| | |
| --- | --- |
| Total Number of Barangays | 6 |
| Total Number of Fisherfolk Organizations Formed | 7 |
| Total Membership | 220 |
| Total Male: 109 | |
| Total Female: 111 | |
| Total Number of Organized Households | 140 |
| Total Number of Households with Comprehensive Development | 43 |
| Total Number of Seaweed Farmers | |
| Resource Management | |
| Total Number of Demarcated Areas | 3 |
| Total Size in Hectares | 3,400 |
| Total Mangrove Reforestation (in hectares) | 1.5 |
| Total Mangrove Management (in hectares) | 510 |
Marihatag, Surigao del Sur
Among the focus of the program in Marihatag is the strengthening of the POs in the 4 barangays of Alegria, Antipolo, Amontay and Sta.Cruz through leadership mentoring, strengthening of their organizational systems such as reporting and documentation, basic financial management, as well as planning-assessment system. As a result they became more confident in raising their community concerns and recommendations in the Barangay Development Councils.
The POs are increasing their involvement in community resource management. In the light of 10 mining applications in the area, they actively participated in the formation of Marihatag Multi-Sectoral Alliance for Environmental Protection (MMSAEP). The alliance issued a resolution rejecting mining operations in Marihatag. It is also actively campaigning against the approval of the mining applications.
The POs also actively conduct apprehension of illegal mangrove cutters in their mangrove forests. They also conducted mangrove reforestation in 1.39 hectares, bring the total mangrove reforestation area to 3.17 hectares.
On livelihood aspects, provisions of seaweeds production materials were provided to 20 households for seaweeds farming in four (4) barangays. Simultaneous installation of structure and planting was done with assistance from the technical staff and community organizer and took one (1) week to complete everything. A Memorandum of Agreement was signed indicating the policies, guidelines and procedures for the project. It is also clear to them that they have to pay the materials and seedlings provided to them within six (6) months.
Counterpart was also provided by the seaweed farmers such as motorboat and other materials like rope and buoys. Their loan has a minimum total of Php 10,000 to 14,400 for the first cropping and Php 3,500 to 7,500 for the second cropping. There were seven (7) seaweed farmers in Brgy. Amontay, three (3) in Antipolo, five (5) in Brgy. Alegria and five (5) in Brgy. Sta. Cruz.
Unfortunately, tropical storm "Sendong" struck the area causing the destruction of the seaweed farms, fish cages and guardhouses. All of them were affected but those who felt worst were the farmers from barangay Amontay. Two of the seaweed farmers are supposed to harvest two days before typhoon Sendong hits the region. One (1) farmer (Raul Sabatin) almost lost his life upon trying to save his seaweeds during the onset of the typhoon and found himself crying over the loss. Other seaweed farmers from brgy. Amontay who were in Hinatuan during that time to attend Seaweeds Business Planning also cried upon hearing the news. Other farmers who attempted to save the seaweeds did not pursue their plan to go to the sea when they saw big waves and felt strong winds. Nothing was recovered after the typhoon. The estimated total amount of the damages reached to Php 311,000 in four (4) project sites.
| | |
| --- | --- |
| Total Number of Barangays | 4 |
| Total Number of Fisherfolk Organizations Formed | 4 |
| Total Membership | 142 |
| Total Male: 65 | |
| Total Female: 77 | |
| Total Number of Organized Households | 32 |
| Total Number of Households with Comprehensive Development | 61 |
| Total Number of Seaweed Famers (males) | 20 |
| Resource Management | |
| Total Mangrove Reforestation (in hectares) | 3.17 |
| Total Mangrove Management (in hectares) | 310 |
Hinatuan, Surigao del Sur
Six Fish Sanctuary committees upgraded their respective guardhouses through bayanihan system. The bayanihan included repair of guardhouse, installation of billboards and marker post, participation and mobilization of youth for REA data gathering, reprimanding violators, roving and apprehension activities. The mangrove committees on the other hand, continuously conducted mangrove reforestation and monitoring activities.
For 2011 Resource Ecological Assessment of the 5 Fish Sanctuaries, result showed that the Coral cover is from fair condition in Loyola (44.25 % cover) and good condition (50 to 61% cover) for the fish sanctuaries in Port lamon, Mahaba, Cambatong, and San Juan, inside the sanctuaries. Fair condition in Mahaba with 41.5 % cover, good condition in Port Lamon, Cambatong and Loyola with 55.0 to 61.0 % cover and excellent coral cover in San Juan with 87 % cover, outside the sanctuaries.
The gender committees, with the help of the training courses conducted by CERD, raised VAWC awareness in their family development sessions under the 4Ps. The Organizing and Education Committee of 5 organizations (DANGGIT, ANDUHAW, BUNLOD, LATO, PUGAPO) actively mobilized community members on community activities such as environmental awareness to high school students in Port Lamon; community assembly for water project implementation, participation of head teachers and students in Port Lamon and Loyola High School for REA data gathering and result presentation and validation.
Training and partnership with the municipal federation (NAMAHIN) is sustained for the seaweed enterprise as well as the women display center for their products.
On food security aspect, already 282 households maintained their backyard vegetable and herbal gardens with resulting to household supply of vegetables such as lemon grass, pechay, onion, chilli/red pepper, alugbati, water gourd, lady finger (okra) and other herbal plants.
The DRR plan formulated by the CERD Hinatuan staff was effectively implemented during typhoon Sendong:
- Program Manager sends regular advisory, warnings and updates to field staff
- Community Development Officers send messages to their assigned community.
- shortage of electricity hindered communication (no internet; limited supply of battery)
- foods and candles were purchased
- training center and seaweed warehouse utilized as temporary evacuation center by 9 neighbouring households.
Typhoon Sendong quick reaction project was implemented to assist the affected households. Because families lost income, their houses destroyed and seaweed farms washed out destroyed, cash and gift vouchers were provided for the victims to be able to buy groceries and house repair materials. Support was provided by the Lutheran World Relief and the Swiss catholic Lenten fund. All 443 fisher households who are members of the fishers' organizations were provided with assistance.
As for NAMAHIN, the fisherfolk federation in Hinatuan, Water and sanitation activities are already included in the NAMAHIN federation plans for 2011.
| | |
| --- | --- |
| Total Number of Barangays | 10 |
| Total Number of Fisherfolk Organizations Formed | 12 |
| Total Membership | 611 |
| Total Male: 291 | |
| Total Female: 320 | |
| Total Number of Organized Households | 447 |
| Total Number of Households with Comprehensive Development | 282 |
| Total Number of Seaweed Farmers | 53 |
| Total Male: 38 | |
| Total Female: 15 | |
| Resource Management | |
| Total Number of Marine Protected Areas/Fish Sanctuaries | 7 |
| Total Size in Hectares | 482 |
| Total Mangrove Reforestation (in hectares) | 60 |
| Total Mangrove Management (in hectares) 1,192 | |
| Total Number of Women-Managed Areas | 1 |
| Total Size in Hectares | 19.5 |
Partnership Building
Visibility in several networks remains to be strong with CERD's active participation in at least five (5) networks. In Aksyon Klima Pilipinas, CERD attended regular meetings as well as invitations from the Climate Change Commission. The Women @ the Center project in Hinatuan was presented in two venues, one in the Vulnerability Assessment consultation series of the Climate Change Commission and another on the invitation of Climate Exchange. The said presentation was appreciated for its ground level experience.
CERD is now recognized as a strong and credible advocate of gender and fisheries issues in Aksyon Klima and in the climate change sector due in part to its ground level experiences and learning. These learning experiences help strengthen AK's advocacy positions in the Phillippine Delegation to the UNFCCC.
CERD participates in the regular feedback sessions of the Philippine Delegation on the outcomes of every intersessionals and Conference of Parties (COP). The Philippine Delegation (with a significant number of CSOs serving as advisers) is making a strong presence among the non-Annex 1/developing countries and its significant number of submissions being appreciated. Other countries like Argentina had been thanking the Philippine Delegation for its contribution to the UNFCCC processes.
CERD is also one of the remaining active members of NFR as well as the Save the Fisheries Now Network, a loose coalition of fisheries-based NGOs and POs. Meetings and activities like Fisherfolk Day celebration House Plenary and Committee meetings were participated in by CERD. Through NFR, CERD participated in the drafting of the proposed guidelines on the reversion of Abandoned, Underutilized and underdeveloped fishponds to mangroves. CERD also partnered with NFR through the Korean Green Grants for the mapping of abandoned fishponds in Hinatuan.
CERD, including the Mondragon and Hinatuan programs, actively participate in LMMA-Country Network activities which include facilitation of CBAM workshop, PhilMMA GA, review of resource management monitoring tools; as well as facilitation of mangrove management training. CERD also attended LMMA strategic and operations planning in Fiji.
Regarding INAFI BOT members, CERD BOT is status quo; hence CERD is still its BOT Vice-Chair. CERD attended microfinance summit in India; INAFI Asia GA, and the INAFI Philippines country meetings.
In the Pambansang Kilusan ng Kababaihan sa Kanayunan or PKKK, CERD is part of the team that worked with BFAR for the development of GAD Checklist for Fisheries. This is a list of indicators to identify if the BFAR projects are gender-responsive. There have already been improvements in BFAR-GAD officials' perspective on gender which can be attributed to this partnership.
PhilSEN where CERD is also a member and attended the network activities including the SE Conference held in Ateneo de Manila University.
SEA Fish for Justice Network is also one of the mechanisms of CERD to engage in fisheries policy campaign at the regional level. Campaign activities focused on promotion of sustainable aquaculture practices, community based coastal resource management, position regarding CTI among others. A training course on the different aquaculture products such as abalone, seaweeds, milkfish, sea cucumber and culture technologies at SEAFDEC was sponsored in 2011 and attended by 1 CERD staff.
Other activities where CERD made presence included the International Conference on Biodiversity and Climate. Awarding of current finalists was done in this venue and CERD was invited by UNDP as former Equator Initiative Finalist.
CERD Executive Director, Jovelyn T. Cleofe and Program Manager in Marihatag, Samuel D Aposacas, joined the Philippine partners of DKA Austria in its Carole Singing campaign in Austria. CERD was able to present its programs and accomplishments in different parishes, schools in three states in Austria last November to December of 2012.
Social Enterprise Development
Seaweed production capital provided to 73 fishers of Hinatuan and Marihatag, 53 and 20 respectively. In Northern Samar, 37 seaweed farmers from4 barangays of Biri and 1 barangay in Mondragon also provided with capital assistance.
The seaweed buying station in Hinatuan traded a total of 11,368.80 kilos of dried seaweed in 2011. At the barangay level, CERD Hinatuan and Biri worked with local consolidators who are from the partner fishers' organization. These local seaweed consolidators are trained on the required quality standards by seaweed traders or processors.
Prawn Fry- 2 Production cycles undertaken by the Prawn Fry Hatchery Facility in San Juan, Hinatuan. A total of 1,497,272 pcs. of prawn fry sold.
Organizational Matters
As of 2011, CERD employs 31 full time project staff, has 4 field offices in Biri, Hinatuan, Marihatag and Mondragon, and a national or central office in Quezon City. The Board of Trustees' Chairperson is Mr. Julio Galvez-Tan. Vice Chair is Dr. Loida Corpus, BOT Secretary is Atty. Rodolfo Quicho, Jr while the BOT Treasurer is Rodolfo Santos, Jr. Members of the Board are Ms. Lou Gargarita, Mr. Cesario Magpayo and Ms. Minerva Gonzales.
CERD also conducted its 5 year Strategic Planning Workshop in Coron, Palawan. Vision and mission statement revisited vis a vis the situational analysis and issues of its target sector, the municipal fisheries. As a result, the following were agreed upon:
Vision:
Empowered and self reliant communities living in harmony with a healthy coastal environment
Mission:
Facilitate the establishment of communities with responsive institutions for community based coastal resources management
Strategic Goals:
On Financial Management and Sustainability
Five percent (5%) annual increase in traditional funding which is external donors
Non traditional sources of income constitutes 5% of the total income for the 5 years through (consultancy, LGU counterpart funds, government projects)
To upgrade the financial management system to cope with the complexities of the organization's operations
On Organizational Processes
Institute an HRD program in the organization through the following components staff development, career path system, performance appraisal system, reward and benefit system
Enhance communication and administration system in the organization.
Develop tool kits and module for the new CBCRM development strategy (see tool kit list under development strategy)
On Clients
Enhance the capacity of barangay and municipal level institutions to implement CBCRM
On Learning and Growth
In 5 years time, knowledge management system and processes institutionalized:
- Enhanced and maintained website
- All staff oriented on KM and contributing to knowledge generation
- Mechanisms in place at the program and institutional levels
- Secured resources (human, material, technology) for the system.