Bakit Kailangang Pangalagaan ang Bakawanan?
(Why Do We Need to Protect the Mangroves?)
- Para makasuporta dito sa amin (To support us)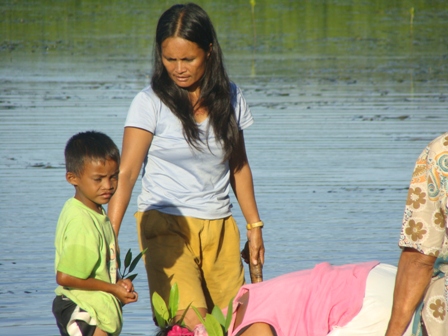 - Pag maraming bakhaw, maraming isda (If there are many mangroves, there would be many fish)
- Para din sa amin, sa kinabukasan ng anak naming (For us and the future of our children)
These are some of the words of the people, young and old, in Biri, Northern Samar, when asked why they think mangroves should be protected.
The Center for Empowerment and Resource Development, Inc. (CERD), with support from Philippine Tropical Forest Conservation Foundation, Inc. (PTFCF) implemented the Community-Based Mangrove Protection and Management in 2007-2012. The project aimed to contribute to the protection and regeneration of mangrove ecosystem in Northern Samar. It was first implemented in Biri and then expanded to Lavezares, Rosario and San Jose in Northern Samar.
Biri is located at the northernmost tip of Northern Samar, making it a navigational landmark. It is composed of 8 barangays in 7 small islands. It has a total land area of 4,315 hectares and a population of 10,987 (NSO 2010). The main sources of livelihood are fishing and farming.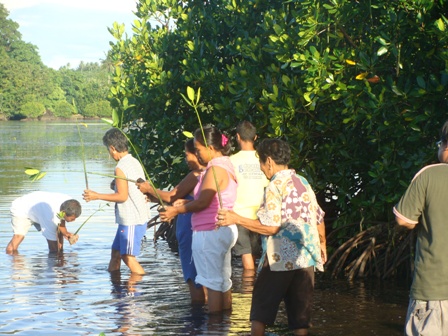 Mangroves are trees that grow in coastal areas inundated by brackish water. They are also called tidal forests or mangrove forests. Mangroves help keep minerals and nutrients in nearshore areas. They serve as shelter for crabs, shrimps and other juvenile fishes. They protect the coasts from typhoons, strong waves and floods. They also prevent soil erosion.
Before CERD arrived in the municipality, there were rampant illegal fishing and mangrove poaching. There was also lack of apprehension activities, leading to destroyed mangroves as well as corals and seagrass, resulting in low fish catch and income. The people did not understand the importance of mangroves; hence there was rampant cutting of mangroves for fuel and for building houses.
Challenges Faced by the Project
CERD organized the fisherfolk communities and built awareness and capacities on community-based coastal resources management. They worked in partnership with the local police to intensify apprehension activities. However, the Chief of Police frequently gets transferred, necessitating the need to repeatedly advocate for intensified monitoring and apprehension.
CERD also worked with local officials for the inclusion of mangrove protection activities in their Term-Based Plans. The challenge is ensuring that the budgets allocated are released accordingly and not realigned to other budget items.
Milestones Achieved
The people of Biri believed that the project helped consolidate the communities. They have formed organizations and have regular communications. Illegal fishers became cautious and afraid because of CERD presence, leading to decreased incidences of illegal fishing.
The communities and the youth are educated on the importance of mangroves, ensuring that mangroves will continuously be protected. The mangrove nursery established with different species of mangroves helped improve understanding on the importance of the mangrove ecosystem.
Aside from mangrove protection, CERD also implemented fish sanctuary establishment, potable water and barangay pharmacy. All these led to improved quality of lives for the communities. Fish catch and consequently, income has improved.
The project also led to partnerships not only within the municipality but in the academe as well, particularly with the University of Eastern Philippines Center for Environmental Studies and Advocacy.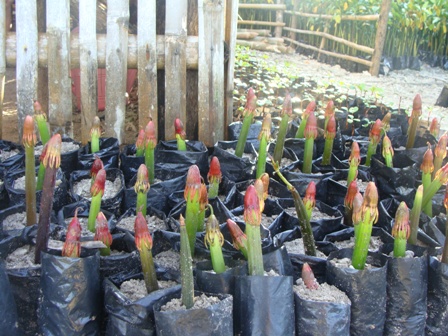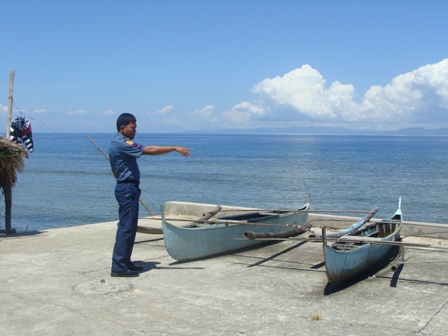 Hopes for the Future
CERD hopes that efforts are sustained towards further increasing income of the fisherfolk. Also, government agencies should continuously unite to improve biodiversity Biri.
The communities commit to continue mangrove protection even after CERD's project has ended.
The academe believes partnership should not end together with the project. It should be continued even after project duration.
The video of this article can be found here