Stories of Change 2: A Woman's Strength Endures All
By: Bonifacia Bughao
Loyola, Hinatuan, SUrigao del Sur
June 2015
"Gikan pa sa akong pagkabata, nag-agwanta na ako sa kalisud. Na gadamgu ako sa usa ka manluluwas kanako gikan sa kapaiit sa akong nahimutangan" From my childhood years, I endured all sufferings. I dream of my knight in shining armor to rescue me from the torment that I am in. This is what Bonifacia "Boning" Gumanit Bughao described her childhood dreams.
Boning starts life early with a lot of struggles. At the age of 8 years old, she had to find a job fit for her age so she can continue her education. They were 8 children in the family and due to the hardship in life, she and her elder sibling had support their selves especially for their education. Boning is a house help doing household chores for someone else's home when most of the children her age are out playing children games. She had to wake up early 4:00 in the morning and travel by a pumpboat to attend her school in Butuan City for this is also the school where her employer work. But her fragile body had trouble surviving the coldness of the early winds making her sick. She had to stop going to school and had to regain her strength for 1 year with her family.
When she was 11 years old, a practicing attorney employed her as their house help and in return send her to school. She was able to finish her elementary education in Butuan Central School, her secondary education in Agusan National High School and a 2 years Secretarial Course in Father Urios College in Butuan City. Through all this year, she was alone in the journey of her life and had minimal interaction with her mother and father and had been missing their love and care. It was during these years that she dreamed of someone rescuing her from all the suffering.
Even when she had finished her education by her own ways and means she still felt the need and the urgency to help her family. Immediately after her graduation, she applied and was hired as casual clerk in one of the private company in Butuan City. After her contract, she went to Davao to find a job again. For 2 years, she concentrated in working hard to the point that she felt burn out from the routinary works. She decided to stop working and followed her family in Hinatuan. They transferred in this municipality for her grandfather and her father had purchased a farm in barangay Loyola and cultivated the land.
It was in Loyola that Boning found her knight in shining armor. The guy is older than her but she was easily attracted because of the care and the importance that the guy showed to her. Boning felt that this is the guy that could provide her with all the love, care and pampering that she had been missing from her parents. "Ug nag pasalamat ako ni Lord nga iyang gihatag ang akong wish". I thank the Lord that He had granted my wish. For 2 years after our marriage, I felt for the first time how it was to be loved, to be relaxed and everything you needed is provided to you, no boss that would give commands especially within these 2 years for we still have no children.
Boning and her husband had 7 children. They did not regret having a lot of them for they are their source of inspiration. Her husband struggled hard enough to earn for the children's education and for their daily needs. Boning is described as a disciplinarian mother but not harming her children. Her son said, he and his siblings never received any spanking from her but most were words of wisdom and inspiration. He said their Nanay Boning can manage her anger properly, keeping her cool in times when it is hard to keep it.
Pacifying her anger all the time is her husband. Her husband was her confidant, her best friend, and her shock and stress absorber. Her life revolves only with her husband and her children to the point that she believed that it would be impossible to live without her husband by her side. He was her source of her strength.
Yet, another bigger struggle awaits Boning. Her husband suffered cancer. This was the darkest part of her life. "Nablanko ang akong huna-huna, tulala walang magawa" I had trouble finding my thoughts, making me speechless most of the time and had a hard time finding my actions to the problem. When my husband died, it was as if my world also died with him.
But as the days turned into years, Boning had realized not to center all her strength with just one person when there had been many who needed her importantly. "Akong narealized nga dili sa usa katao lamang ako mosentro kon dili naa pay tao sa akong palibot nga nagkinahanglan kanako gawas pa sa akong mga anak".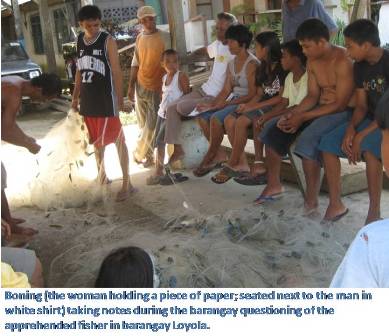 The barangay that she worked and PUGAW and NAMAHIN organization that she had voluntarily served is also her sources of inspiration. She held the vice presidency of the organization as well as the chairmanship of the Water and Sanitation project of the organization and recently elected as Chairperson of NAMAHIN federation. She participated in the mangrove reforestation activities of the organization and encourages her children and other community members to participate the mangrove planting, apprehension and maintaining cleanliness in the community.
In roving and apprehension, the fishwardens in her barangay would go into the sea and any apprehended fishers were brought to the barangay where in Boning take notes of the details for the barangay blotter of the incident (as shown in the picture at the side).
As Boning encourages her children to be active in resource management, she also inspires other women to fully relay on their inner strength and courage. Men are not needed to find true strength and happiness in a women's life.
One of the most remembered advice she had given to her children is to love their partners in life the way she (Boning) had loved her children and her husband.