Stories of Change 3: A Woman Struggling for the Future of their Family
By: Delfa A. Cabalit
Talisay, Hinatuan, Surigao del Sur
June 2015
Ampong Family lived in Barangay Talisay, Hinatuan, Surigao Del Sur. This family has nine (9)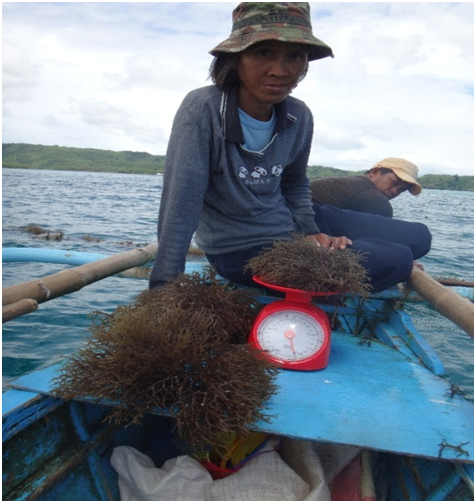 chidlren (5m; 4f). All of them were sent to school. Fishing is their major source of income and his children helped him in fishing during non-school days. While the others were helping in the productive chores, some were doing the reproductive activities and help his wife in household chores particularly his daughters. In 1966, one new member of family Ampong was born and was named Delfa. She was the eight (8) child among the nine (9). She grew as a religious woman and a church choir. She finished only elementary grade.
In 1991, she got married to a guitarist man (Renato Cabalit) who came from Bohol and a newly resident of Talisay. Her heart was captured by this man through the beat of the guitar strings. They got six (6) children (4f; 2m). Five (5) of their children were sent to school but one (1) had temporarily stopped schooling in college because of high tuition and other school fees. At first, fishing activities is their major source of income or using illegal fishing gears like triple net as they don't know yet the impact of illegal fishing gears they used.
Year 1997, Mrs. Delfa Cabalit joined as member of the Socially Enlightened Association of Girls Towards the Sustainability or SEAGRASS organization, a women organization facilitated by Center for Empowerment and Resource Development (CERD), INC. at barangay Talisay. Together with other members, she attended seminars and trainings in the protection and preservation of marine resources facilitated by CERD. These trainings and orientations focused on the importance of having a balanced ecosystem using legal fishing gears of which Mrs. Cabalit understood and applied in their household. Since income from fishing is not enough to finance their household expenses especially that their children are growing up, Delfa and her husband had sorted to another source of livelihood which is seaweed farming.
Seaweed farming is one of their options for livelihood diversification. They started planting near barangay Talisay with five (5) lines, but their farming were stopped during unfavorable weather condition like summer and North-East monsoon (amihan). Their farming site is exposed to strong currents and waves that caused the seaweeds to be washed out during north-east monsoon or "amihan". They decided to find another planting site for farming. Thus the waters around the island of Pangasinan in barangay Portlamon was the area they selected for seaweeds farm. They observed that the area is feasible for seaweeds growth. They were able to harvest better from their new site compared to the previous site.
In 2011, typhoon "Sendong or Washi" destroyed all seaweeds farms of Hinatuanon seaweed farmers including Delfa's farm. All seaweeds planted were totally damaged including the poly rope, floaters and anchorage. After the Sendong, CERD provided livelihood recovery assistance to the seaweed farmers of three (3) lines each beneficiaries and Delfa was granted with the assistance. She with her husband re-started seaweed farming. Year after the typhoon Washi, another typhoon named "Pablo" hit Hinatuan that destroyed again the seaweeds farm. CERD through the Lutheran World Relief (LWR) provided an emergency livelihood response. Delfa and her family received material assistance such as poly rope, floaters, straw, and nylon (from hardware) so that they can re-establish their seaweed farms. This assistance was a big help to them in starting a new farm.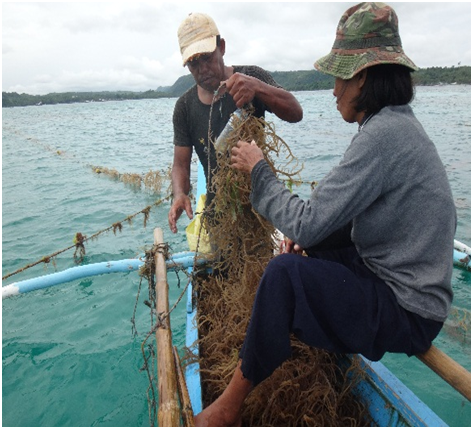 In the first cycle of farming, they were able to sell three (3) big sacks (burden) of rawdried seaweeds amounting to eight thousand pesos (PhP 8,000.00). After recovering from loss, another problem occurred. This was the unfavorable condition such as strong currents or "bakat-bakat", ice-ice disease and epiphytes. At first as Delfa said" Hinayaan lang muna namin ang seaweeds dahil nag observe muna kami at akala naming babalik sa dati if okay na ang panahon, pero habang tumatagal lalong dumami at nauubos na sila, kaya nag desisyon kami na iharvest na". The remaining seaweeds with good quality were used as seedlings for the next cropping. As she said "Maski sa una pa, hindi kami bumibili ng seedlings, mismo sa farm namin kami kumukuha ng seedlings na itatanim ulit."
Her husband as a seaweed farmer attended seminars and orientation on seaweed farming system and gained knowledge on the seaweeds farming protocol and process. She and her husband worked together in their seaweeds farm. Her husband was the one who did the anchorage and installation of the planting lines while Delfa is involved in planting, daily monitoring and maintenance, harvesting and drying.
Her husband was also one of the pilot–seaweed farmers who did the monitoring of seawater parameters such as water salinity using refractometer, temperature using water thermometer and water transparency with the use of secchi disk. Though, her husband was the one assigned in monitoring the water parameters, she also learnt how to do it in their farm. Last December 2013, they were granted treated seaweeds seedlings for pilot–test. A total of 19.3 kilos treated seaweeds from the land based seaweed nursery was provided by CERD and had been planted in their farm. For the first month, the growth of the seedlings was observed to be fast. But suddenly, there's typhoon Agaton that caused prolonged precipitation affecting the water parameters and resulted to diseases like ice-ice and epiphytes. After a month, they harvested the remaining 18.3 kilos treated seaweeds and were divided to 2 seaweed farmers who were doing the pilot farming. Her husband got 8.3 kilos treated seedlings and was replanted. Month after, they observed that the growth of the seaweeds is fast. From one line in the first month, they were able to expand to 3 more lines on the 3rd month. Ice-ice diseasehad been observed to be minimal compared to the non-treated seaweeds which has high occurrence.
After three months of culture, the treated seaweeds growth turned back to its original growth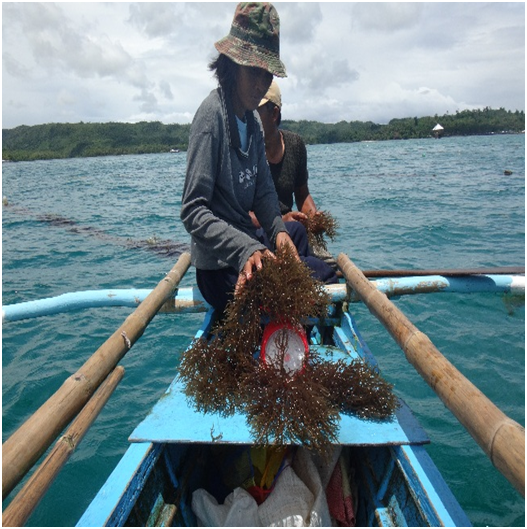 run. In thelong time period of culture of seaweeds it was easily affected by ice-ice and epiphytes. Because of the incidence they harvested the treated seaweeds before it will totally be affected. Overall, they harvested an estimated of 85 kilos for dried treated seaweeds.
Delfa says that, if given an option to choose what is preferable to plant for the seaweed seedlings between treated and non-treated, she will choose and recommend the treated seaweeds with AMPEP fertilizer because it grows faster than the non-treated seaweeds, disease resistant, was observed to be heavy in weight for dried and with strong thallus. The couple was thankful for the assistance not only for the emergency response that they received (materials provided and cash) with the knowledge and technology that they gained which will make them resilient in times of disaster.