Biri
Program in Biri, Northern Samar started in 2004 in 4 barangays. The program led to the formation of 4 fisherfolk organizations in 4 barangays with a total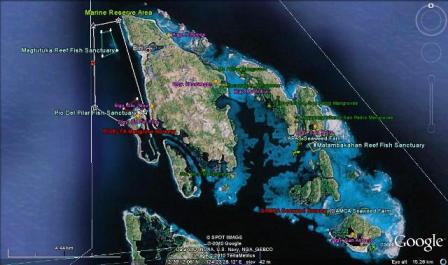 membership of 80 (43 males, 37 females).The program led to the establishment of 1 fish sanctuary with a total area of 12 hectares in Bgy. San Pedro.
2007 was the year the Community-Based Mangrove Protection and Management funded by the Philippine Tropical Forest Conservation Foundation (PTFCF) was implemented. This project aimed to contribute to the regeneration of the mangrove ecosystem in Biri by establishing a community-based mangrove management system in the said area. The project covered protection of 546.1164 hectares and enhancement planting in 39 hectares. It is now expanded to cover all eight barangays in Biri.
Other projects implemented in Biri include potable water project in 1 barangay funded by Peace Equity Foundation (PEF) and Botika ng Barangay (Village Pharmacy) funded by Seacology.
For 2009-2010, the project Integrated Coastal Resource Management of BiriLaRoSa, Northern Samar is implemented. This project aims to improve the status of coastal and marine resources and the well-being of the community people of BiriLaRoSa, Northern Samar through awareness raising, building the capacities of existing POs in the technical aspects of resource monitoring and protection, livelihood program implementation, expansion of Marine Protected Area for 10 hectares to 40 hectares, as well as facilitation of BiriLaRoSa Protected Area Management Planning.